Drill Team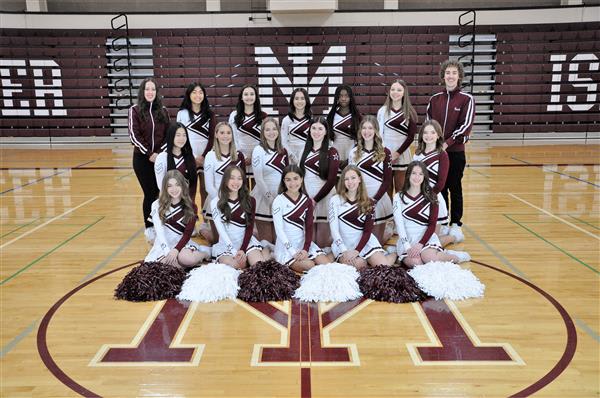 Drill Team Coaching Staff
Head Coach:
Assistant Coach:
WHAT IS A DRILL TEAM?
The Mercer Island Drill Team (MIDT) was founded in 1959 and has been a pillar at MIHS for generations. While there are several different types of drill teams, MIDT is a dance drill team. Dance drill teams specialize in routines based on precision dance movements and visual formations. MIDT competes in the winter season and performs at sports events and assemblies throughout the year. MIDT is a year-round time commitment.
Click here for our YouTube to watch recent performances!
IMPORTANT INFORMATION:
Tryouts for the 2023-2024 season will take place April 3rd-7th, 2023.
All students who will be enrolled at MIHS for the 23-24 school year are eligible to try out.
No dance experience needed.
22-23 COMPETITION DATES
Saturday, December 3rd, 2022 - Competition at Lake Washington HS
Saturday, January 14th, 2023 - Competition at Redmond HS
Saturday, February 4th, 2023 - Competition at Eastlake HS
Saturday, March 11th, 2023 - Districts at Redmond High School
Friday, March 24th, 2023 - State competition in Yakima
SPORTS REGISTRATION:
For 2022-2023, sports registration is online, return forms to the Athletic Office. You will use your Skyward Family Access to login and password, OR use the students ID number(minus the leading zero) and last name as username and password. ALL Drill members are required to complete a new athletic packet for the 2022-2023 school year.
---
Sports Fee: $250.00
ASB Card Fee: $70
Total: $320
Both fees are required to participate in the Drill Team.
* Refund Notice (please refer to Athletic Eligibility Handbook): If the Athletic Office is notified no later than the second full week of practice, a refund will be given in full. There will be no refunds issued after this date.*
You will be required to submit the following forms to the Athletic Office: 2022-2023 Athletic Packet
Athletic Health Form, which includes the Physical Exam, signed by a physician (a current physical is required and may already be on file with the athletic office)
Signature Page
Emergency Medical Authorization From
* All students are required to complete a new packet for next school year. Try out packets expire in August.
Please contact Becky LeMaster in the Athletic Office with any questions at 206-230-6345; becky.lemaster@mercerislandschools.org
CHAMPIONSHIPS
KINGCO CHAMPS
STATE RUNNER UP
2002, 2006
STATE CHAMPS
ACADEMIC STATE CHAMPS
2001, 2004, 2009, 2011, 2016